Reliving the old days, I felt punk as fuck last night...well until I hugged the wall during the Amebix set at the Bowery Ballroom. I had practice with
Angela
,
Rich
and Curran (get on the blogwagon dude!) last night. It was our first session as a full band, Rich being the newest member, and our third practice to date. We've got one song so far, but we are having fun. No name as of yet, though I've been joking about
Baphomess
but no one seems to get it until they see it in writing.
Angela and I went straight from practice to the show both excited as hell. I'll be the first to admit that I am newer the Amebix than one may expect. I have a lot of gaps in my musical knowledge, especially on the punk side of things, but their crust/metal crossover is right up my alley. Still I felt almost unworthy when
Sean
scored me a last minute ticket to the sold out show when so many of my friends had bought tickets far in advance and were dying with anticipation from the moment the reunion was announced. After the show more than a few friends told me how they were literally fighting back tears and some points, overwhelmed at seeing something they'd never thought they'd witness and it being so amazing on top of that. I had lesser expectations, but they blew me away.
We were obviously stoked
Crass and acid wash courtesy of Court
Not the most flattering angle, but check out the hand sewn hell bent for leather Atakke 7". Now that's punk as fuck.
Guess who?
Being nerds...okay, not to toot my own horn but the old Corrosion of Conformity shirt (Poison Planet!) is one of the best things I own.
I know...we're gross
But we're not the only ones
Sean and his awesome friend from Boston (who helped get me in and I'm a dick of forgot her name.) Check out the background, everyone was representing in full force.
The lovely
Sybil
was out in full force as well. It was amazing watching her lose her shit during the show.
I didn't take any photos during Amebix. First off, try taking pictures near the front of the sold out Bowery Ballroom during a show with a massive pit which is pretty much consistently active. Second, try remembering that you even have a camera when you are too busy trying to pick your jaw up off the floor.
Afterwards I had to deal with assholes harassing me at the Charleston when I showed up to DJ to no one. All the Brooklyn punks went to Second Chance and everyone else had already been to the Charleston the night before for the Kylesa show. Boo. At least
Orin
was there to keep me DJ company, the one holdout for the Amebix show. He declared, "Amebix is Morrissey for crust punks" and made this crappy flyer: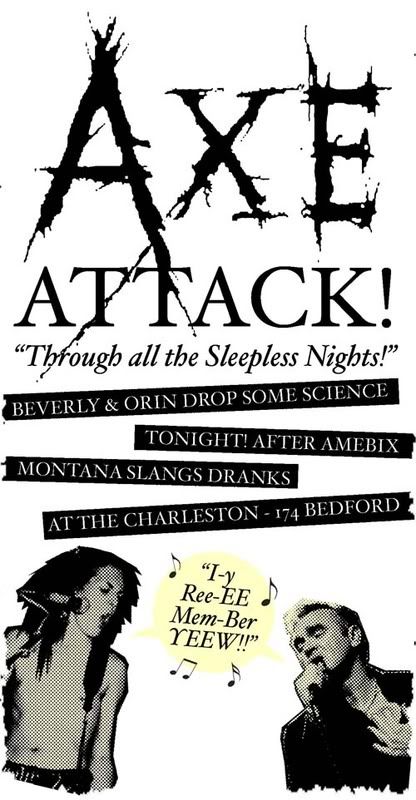 He did cover for me for the first half the night so I could go to the show so I can't hate on his hating. Basically this is all that happened at the Charleston:
Although there were some fists raised in the air throughout the night. Mainly by those two.